and the vacation continued…..
Day 3
The day started with smoky conditions from the Trail-Cleveland Ridge wildfire burning nearby. The smell of faint burning timber could be smelled throughout the day. The fire was burning in remote public timber and privet timber land up along the west fork of Trail Creek road. Fortunately no homes were destroyed in the surrounding area, and the whole community is grateful for it. It did make for some smoky conditions throughout the day, but not enough to hamper being outside.
After a small culinary trip in Medford Oregon on day two, we decided to continue on our culinary adventure by picking some apples early in the morning for the local food bank who desperately needed some for apple sauce and healthy lunches for kids going back to school. A total of 20lbs of apples were donated along with plastic bags (Ashland has a plastic bag ban) to the Ashland Emergency Food Bank.
After unloading our apples, we all headed for the Ashland Weekday Farmer's Market for fresh produce. There was endless stands of fresh produces, fruits, baked goods, and dairy products to sample. Reasonable prices compare to some farmer's markets I have been to, and all farms local to the area. All four of us hauled home peaches (49ers and Princess), more cheese curds, flowers, and fresh baked rustic bread for later.
Once filled on lunch, us girls went into Ashland to do some shopping. Our favorite store in Ashland is Paddington Station on main street. Here you can find anything fun, cute, chic, and unique. The best part is of this store now is it has two other stores on the same street each with different things. In the store Made in Oregon I bought a shirt to display my "Oregon state of mind"while walking down the street in Washington. Let's see how funny this will get once I start wearing the tee. In Paddington Jewelry Box there was all these cute 50s dresses I would see myself wear, but I could not justify the purchase of one.
I did find myself in a local shoe store with this cat….
He just climbed into my lap while I was waiting for Mom as she tried on some shoes. This ginger boy is the same breed as Maddie-a Maine Coon. He was such a happy camper on my lap!
Day 4
Since Dad and I could not go fishing as planned because of all the wildfires burning around the area, and not wanting to be caught in remote place during a wildfire, we all decided to play it safe and go to Lithia Park. This park is vast, and has lots of nature trails to explore. Both of us made it all the way to the reservoir and back before noon. Along the way there were sightings of city deer (aka: Bambi Monster), wild turkeys, and ducks hanging out in the ponds.
For lunch Caldera Brewery and Restaurant was calling my name. I loves this brewery, and every time I am down here I stop by for a craft brew. Everything on the menu and tap is a great choice, you cannot go wrong. I ordered the Tap House Burger with Lemon Caesar Salad and an Ashland Amber beer. OMG!! Best burger in a long time! Better than In-N-Out Burger! As for the Ashland Amber is one of my favorites by this brewery. Caldera is one of the few breweries I favor in Oregon. I seem to prefer the Oregon brews over Washington ones. I think it has to do with the flavor of the hops.
Later that night I found myself sitting out on the back porch listening to crickets chirping in the background under starry night sky. I have been missing this slice of heaven for quite some time, and some how wish I could take it with me when I go back to Seattle.
Day 5
On our last day we all headed up to Valley View Orchards to pick peaches. Driving up the country roads towards the orchard brought back memories of running through fields full of cows. Once we had our picking buckets, we split into two groups and started filling our buckets. After 30 minutes of picking we had 44lbs (20lbs of each) of two types of peaches (Elberta and Sweet Sue). Now what in the world am I going to do with 44lbs of peaches? Haul them back to Washington to make peach jam, diced peaches freeze for homemade yogurt cups, fruit cups and whatever I need peaches for. Truth is I only hauled ~20lbs.
Later in the evening we attended a play put on by the Oregon Shakespeare Festival. The play in question was Great Expectations by Charles Dickens and boy was it a long play! Three hours long of old Victorian era speak, and about 80% in I started to want it to end soon. Just seemed towards the end to drag on just as the book did, but overall the play was great. The way it was staged was interesting with the narrators on the stage like old Victorian carolers as part of the scene and made it easier to follow what was happening on stage.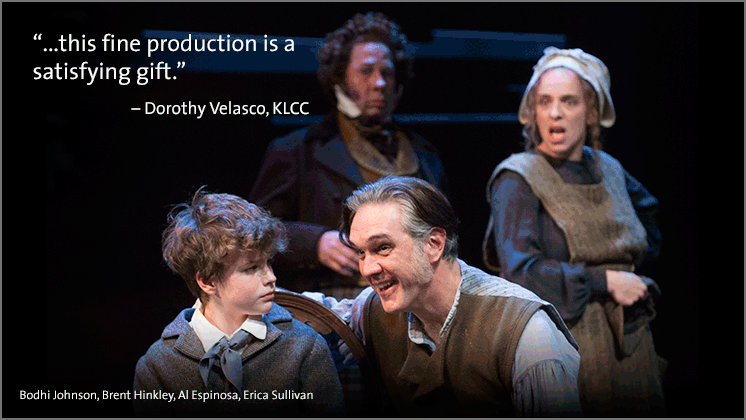 More Info:
Oregon Shakespeare Festival
Valley View Orchards
Caldera Brewery
Paddington Station
Lithia Park
….blue forever.- MØ